History of Houso founder.
Houso is the side line business of me – Ben Johnston, I am a residential property developer based in Salisbury. Over the past 15 years my partner and I have built close to 100 homes as JJ Acquisitions Ltd, as well as advised and consulted to hundreds of friends and family, either helping them with the complexities of appraisals and purchases or down to more technical architectural details of designing their homes, and the mechanics  and complexities of what goes with it.
I started my development career in a small town in Scotland called Cowdenbeath, (it was the only place I could afford – and had a loving Aunt who lived nearby that I could lodge with).  Renovating or rather rebuilding a bus waiting room and turning it into a 3-bed flat, armed with a toolbox, B&Q manual and a tattered blue golf at the age of 22 it was a fast learning curve.
Fast forward 15 years, and we are one of Wiltshire and Hampshire premium developers, we build a high-end product with specific emphasis on space, quality of materials and craftsman and also the environment and community that our customers will be living in for years to come. Premium does mean more costly than most, and as such we have a specific demographic and customer, we work with a lot of people looking to move up the ladder and also those looking to downsize.
We always use the agents that we purchase from, or if it is agent free work with a local independent agent.  I have personally undertaken every single viewing for every one of our properties, as I like the buyer to see what we want to deliver, but so I can see who we are interacting with.  Because of this we also build the rapport to be able to continue contact while the sale is proceeding, chasing or being alerted to problems and being able to rectify them or advise on them at any point, so whilst I am not an agent I have a broad understanding of what happens during the process of buying and selling a house.
Houso
All of the above is a long-winded introduction to our new offering, Houso; a new property marketplace looking to change the route to market for UK Homes and property.  Of all the hundreds of viewings I have undertaken and clients we have, every one of them bar 2 needed to sell their home first.
Houso enables Homeowners, agents' developers and builders the ability to self-list their properties either on or off market and sell their property for FREE. 
Off Market is our USP, a homeowner could list their property months, or years in advance of when they "need" to move, these homes are only visible to paid subscribed users, that can register interest in the property, ensuring the Vendor has a list of buyers lined up in the wings, putting them in a much more proceedable position when the dream home pops up.
Our most profitable trades are those with buyers who have been involved in the process, or those who have purchased off plan, finish the property and the cash is in the bank the next day.  There is no latency between list and sale, and we are looking to create this market for everyone.
What does Houso do? – A picture paints a thousand words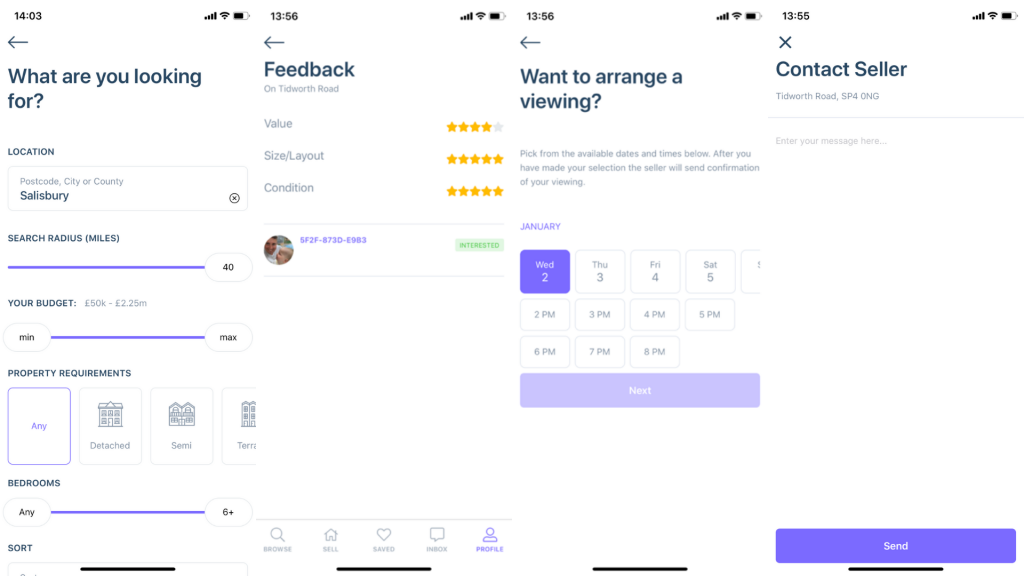 But as well as all of the tech and information, it gives you a direct route to your customer, with no barriers in between, all your properties can be managed from the palm of your hand now and post completion.
Homevault – Like us I am sure you have a handover pack that is substantial that often gets shoved in a draw.  Houso is developing a document storage facility that goes with your properties, so load everything into it, and send the entire thing over to your Solicitors, all your TA8/TA10 boundary enquiries, land registry docs, NHBC, Building Control, all warranties, right down to literally the kitchen sink guarantee.  This folder is then passed to your buyers upon completion and they become the custodian of it, if they make any alterations or adaptions to their home, they can simply enter the documents into Homevault and the process will continue with the life of the home. 
Why should you use Houso?
The tech capabilities of buyers are ever changing, the first-time buyers of the future spend their entire time interacting through their phones, but this is no longer just this demographic, those looking to downsize over the age of 55 have the tech capabilities of using Houso. In less than 3 mins owners could get exposure for their properties, and even less time if they are just looking to browse. 
Houso is an APP – the listings are not advertised on any other portals, there is no listing history, no digital footprint, no price reduction or listing date information. 
We have had over 20,000 buyers download the app in the past 3 months, we have had over 3,000 properties listed for sale.  We are seeing ravenous downloads in all 4 corners of the country and between.
We believe the introduction of more Portals is not what the consumer wants, the consumer wants the most choice, and most current method of searching properties, and crucially interacting with the sellers.  I am trying to create an environment with no barriers to entry, no contracts, no fees, no costs, a simple piece of tech that brings significantly more homes to the market to give people more choice and more time.